1. eSignage
eHotel Signage is a system for operating informations, images, and advertisements on a television set up at many locations, but they are centrally managed in a onece place, through Web applications with flexible cloud technology.
2.  eHotel Signage advantage
eHotel Signage has many advantages such as:
– The system is built with advanced technology, modern suitable for many electronic screens.
– Helps the businesses easily script advertising content and change to suit each region.
– Advertising programs, transmission messages are programmed for the business to proactively time and broadcast scenarios.
– Display screens are segmented according to the operator's intent without the need to perform operations.
Thereby, eHotel Signage can help the businesses easily script ads, manage informations and convey their messages everywhere. But it does not cost much to manage and operations.
EHotel Signage prides itself as a centrally managed advertising system. It has the ability to change the content of ads immediately, according to the current needs of the business.
This is an innovative, simple, effective solution that manages all the contents of the entire LCD, Kiosk, Touch Screen at anywhere, anytime – Via the internet with various links ADSL, FTTH, WIFI, 3G etc..
Place eHotel Signage at multiple points in the hotel / resort, the eHotel Signage system allowing all of them show and update informations,events, advertisings on the large screen with the system is fast and accurate.
3. eHotel Signage model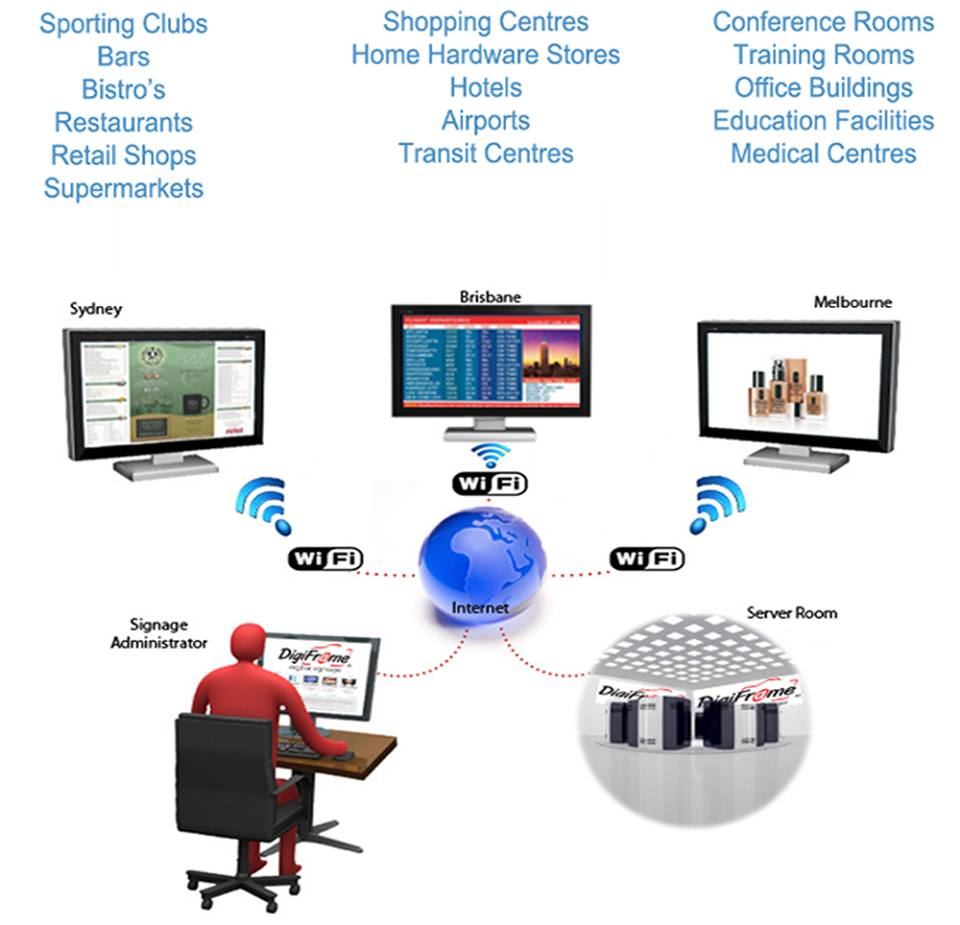 The eHotel Signage system allows administrators to update content in the form of Audio, Video, Graphic, Flash, HTML, Text etc. Then, they are distributed to the endpoint displays (either immediately or on a predefined schedule).
All endpoint activities are managed, ordered from the center and follow the instructions of the center, without the need for direct control at each site, saving labor costs.
4. Using
Centralized advertising system, instant eHotel Signage suitable for: Business Center, Airport, Bank, Public Lounge, Hotel Reception, Hospital, Foodcourt etc..
eHotel Signage has been deployed for: Dong Khanh Hotel, Viettel, Mobifone ..
Should you need any further information, please do not hesitate to contact me.
Address: Floor 6 – Ha Phan Building – No 5 Phan Xich Long – Ward 2 – Phu Nhuan District -HCMC
Hotline: 090 254 8585 (Mr. Dat)
Email: datcq@elcom.com.vn